Dealing
Refractories
We sell furnace refractories used for various industrial furnaces and incinerators.
Exclusive distributor of furnace materials from AGC Ceramics Co.,Ltd.
Distributor of products from PLIBRICO JAPAN Co.,Ltd.
Retailer of products from refractory manufacturers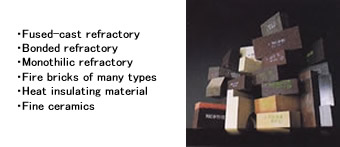 Please consult our Furnace and Plant Department about refractories, including for product selection.
Equipment
We sell the following devices. Please refer to Engineering Division for details.