Greeting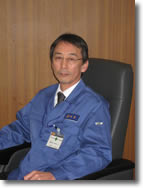 Established in 1892, we have been working on furnace for over 110 years. We have eminently improved ourselves in furnace construction technique together with the development of Glass Industry, extensively embarked upon the area of Steel, Other nonferrous metal and Chemical Industry, and built our status as one of the best global furnace engineering companies. Utilizing and through these multiple technologies in the areas of these industrial furnaces, we have developed incineration systems of non-industrial and industrial waste, and have been striving for keeping the global environment preservation.
Recently we began helping CDM projects in the area of South East Asia in 2003 to study for energy saving and propose the energy saving engineering service in order to prevent the earth from the global warming.
"No Final Goal in Technology" - Based on this key concept, we shall work with a challenge spirit without sparing our efforts to being a strong company which creates new value. Also we strengthen our unity always at the customers view to have the phrases - " We should entrust IHARA!? We feel happy with IHARA's job!" Sincerely forward to your continued support and encouragement.